Getting a post-graduate degree such as a Masters in any field is a high investment. It is expensive and the debt that follows it has to be repaid somehow. To be able to pay back this debt, students are always looking for jobs which have growth potential and offer high salaries. So for the large investment, a large return is also needed.
Many people choose their graduate degrees based on their undergraduate studies, but to choose a Masters degree you have to be a lot more strategic than that. To be able to have a better return on investment, you need to see what the market is demanding and the fastest growing careers and then decide what the most valuable Masters degrees are.
Some degrees offer higher returns and there are many statistical analysis being done to determine what the best Master's degrees for the future are.
The Bureau of Labor Statistics (BLS) has compiled a list of the fastest growing careers from 2014 to 2024 and they are: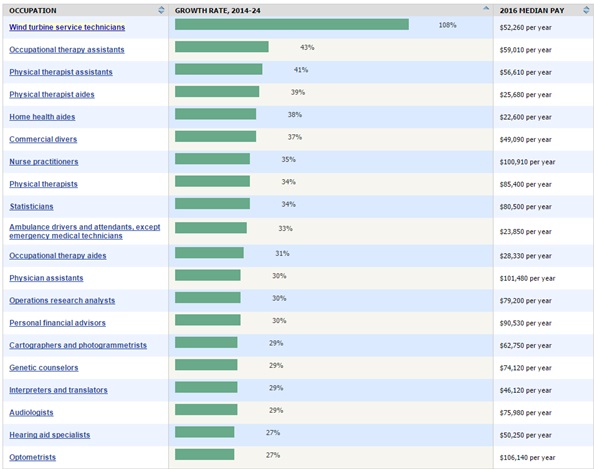 Source: Bureau of Labor Statistics (BLS)
Based on the table, it can be seen that occupations related to medical services, engineering, statistics and business are the fastest growing occupations. However, besides the growth rate and potential salaries, people should also consider the cost and the time it takes to complete the degrees for these professions.
The student debt associated with many professions in the list is large and it takes decades to reach the capabilities to gain the expertise that brings those high salaries.
Because of this, we need to look at degrees which bring a high salary but are also more affordable.
So if you are looking to complete your Masters degree, whether on campus or through distance learning, but are unsure on what field, take a look at the top 10 degrees in demand for the future.
Top 10 Best Master's Degrees for the Future
Masters in Biostatistics
Median Salary: $105,900
Growth Rate: 23%
With an over $100,000 median annual salary and such a high growth rate, biostatistics is considered one of the leading degrees that masters students should complete.
Biostatistics combines medicine and statistics to find solutions and treatments to diseases and determine genetic mutations. The degree will equip students with knowledge on how to conduct experiments, collect and analyze data, and interpret them to come up with recommendations for hospitals and medical institutions.
Masters in Statistics
Median Salary: $113,700
Growth Rate: 16.4%
The Masters in Statistics offers a high salary and high growth potential. It is an intensely mathematical degree which has applicability in all areas of work.
Those who enroll in this degree will learn the intricacies of data analysis and interpretation and be able to apply them to solve real world problems in fields of business, economics, health, computer science etc. Because of its wide use in so many fields, the Masters in Statistics is one of the top degrees in demand for the future.
Masters in Applied Mathematics
Median Salary: $124,900
Growth Rate: 12.7%
With the increasing complexity of the computer and technology age, mathematics and science have increased in importance. That is why the degree in Applied Mathematics is amongst the most valuable masters degrees. It not only assures its holder a generous salary, but it is also expected to grow in the future.
By studying Applied Mathematics, students learn how to create mathematical models and link phenomena to solve problems in fields such as physics, engineering, chemistry, biology, and economics amongst others. It is deemed as one of the best languages of science, and its graduates can work in a variety of positions ranging from consulting firms to research institutes or universities.
Masters in Computer Science
Median Salary: $125,700
Growth Rate: 11.9%
In the past 20 years, technology has progressed more than in the whole history of humanity and it is continuing to develop rapidly. The increased demand for more technological innovation makes a Masters in Computer Science a top Masters degree in demand.
Students learn programming, software development, data analytics, database design and others in order to prepare them for the challenging and evolving work environment that computer scientists will face.
Masters in Software Engineering
Median Salary: $118,900
Growth Rate: 11.9%
In line with the demand for technological orientations and occupations, it is no wonder that the Masters in Software Engineering is one of the degrees that makes the list of the best master's degrees for the future.
Students enrolled in a degree for Software Engineering will learn how to develop complex software schemes, develop different projects, and be prepared to innovate in the competitive tech industry. Companies are always looking for exceptional software engineers who can commit to changing the world with their tech programs.
Masters in Information Systems
Median Salary: $116,100
Growth Rate: 11.2%
The adoption of social media and the widespread use of the internet and digital services generates a humongous amount of data which can be used to analyze and solve business problems, improve processes, and increase profitability.
A Masters in Information Systems gives you the skills to do these tasks and become a valuable player in the industry. Through combining quantitative skills with business analytics, a Masters in Information System equips students with the tools to develop these systems and use the data generated by them to make informed decisions.
Masters in Physician Assistant Studies
Median Salary: $103,600
Growth Rate: 16.7%
The aging population of the world is in constant demand of better medical services and assistance and a Masters in Physician Assistant Studies enables people to meet that demand.
Physical Assistants assist the licensed physician in diagnosis, treatment, surgery, interpret tests, and prescribe medicine. They are certified and state licensed to offer these services and their salary and profession growth rate show how important they are becoming.
Masters in Nursing
Median Salary: $108,000
Growth Rate: 16%
Besides Physician Assistants, nurses are always on high demand. The profession of the nurse is one in which the person is dedicated to helping others live a longer and healthier life. It is fulfilling in terms of personal and financial means. That is why a Masters in Nursing is one of the best Master's degrees for the future and one of the fastest growing careers.
With a degree such as this, nurses can go on to specialize in becoming certified nurse anesthetists, nurse practitioners, certified nurse midwives, or clinical nurse specialists. These are all high paying jobs and allow for flexible hours, continuous learning, and helping others.
Masters in Finance
Median Salary: $117,990
Growth Rate: 12%
If you are interested in finance and have the background which fits the finance complexities and challenges of the world, then a Masters in Finance is the right fit for you. Financial experts can make or break the economy and that is why experts are always sought after by top companies which pay high salaries to get valuable candidates.
A degree in finance will teach you the procedures and standards of finance which are similar across the globe, so it will open up career opportunities anywhere you want to. People with this degree can work as financial analysts or managers, advisers and consultants, and in various fields such as banking, insurance, real estate, etc.
Masters in Business Administration (MBA)
Median Salary: $117,800
Growth Rate: 10.3%
For those who have a knack for business and want to manage companies or even run their own firms, an MBA degree gives its holders the skills and knowledge to achieve those goals. MBA students learn tools and theories which can be practically applied in improving business processes and increasing a company's profitability.
MBA degrees can be general or more specific by focusing on finance, marketing, accounting, etc. Those who have graduated with this degree have high career prospects, with or without initial job experience.
Besides the fastest growing careers and best Master's degrees for the future, there are also a few degrees that potential masters students should stray away from due to their low growth, low salaries, or high costs.
Top 10 Worst Master's Degrees for the Future
Masters in Fine Arts
Median Salary: $46,600
Growth Rate: 3.5%
Masters in Early Childhood Education
Median Salary: $48,700
Growth Rate: 5.4%
Masters in Elementary Education
Median Salary: $54,700
Growth Rate: 5.8%
Masters in Reading and Literacy
Median Salary: $58,200
Growth Rate: 5.8%
Masters in Theology
Median Salary: $57,800
Growth Rate: 5.6%
Masters in Graphic Design
Median Salary: $72,700
Growth Rate: 4%
Masters in Library and Information Science
Median Salary: $61,200
Growth Rate: 4.7%
Master of Arts in Teaching
Median Salary: $60,100
Growth Rate: 5.8%
Masters of Architecture
Median Salary: $81,100
Growth Rate: 4.5%
Masters in English Literature
Median Salary: $69,500
Growth Rate: 6.2%