So you made tons of friends at university, and now the time has come to jet off to study or work in another country? There's just one problem… How can you keep up with all your amazing school and university friends while you're on your year abroad?
We have gathered 10 creative but simple ways for you to stay close to uni friends from thousands of miles away.
10 Ways to stay in touch with friends while studying abroad
#1 Watch a show together
Whether you connect over Netflix Party to watch an episode in real time together, or you watch and discuss afterwards, having a series is a great way to stay connected. Being in a new country, you'll be having a lot of different (but great!) experiences than your friends. And sometimes it's really nice to have something in common to bond over!
Tip: If you're more into reading, then try this idea with novels, or articles instead. Kind of like an exclusive book club!
#2 Send postcards to each other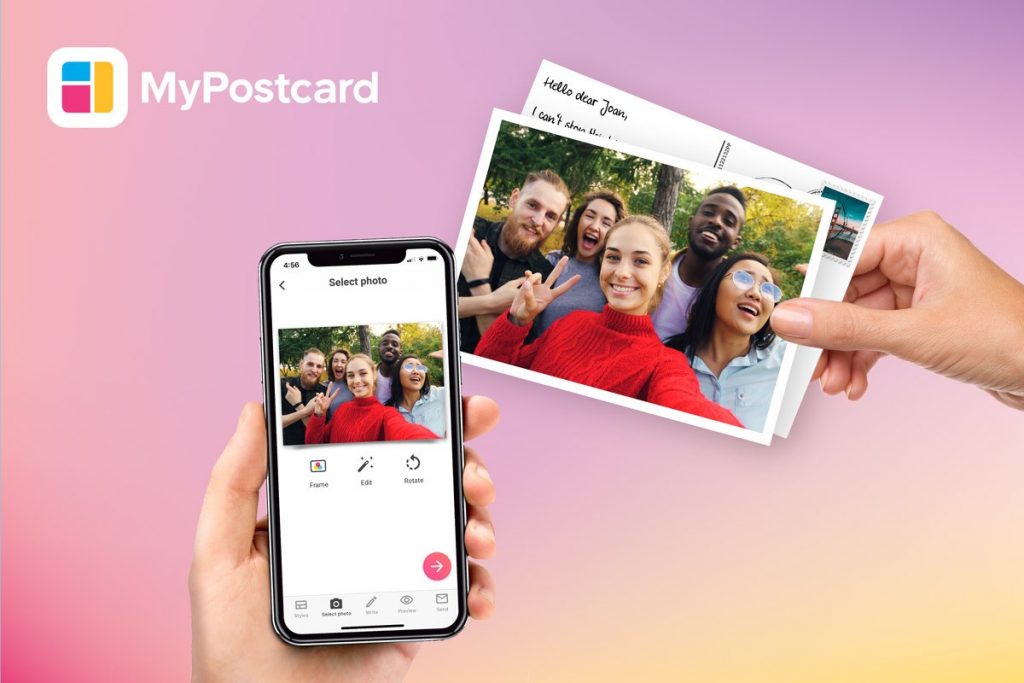 Having a physical token of your friendship to pin up on the wall, especially when you're far away from home, will make your new space seem a little friendlier. Exchange postcards with your friends to build up a collection of memories from your year abroad and before.
At MyPostcard, you can personalize your postcards with your own photos and send them anywhere worldwide with free delivery. There are even pre-written messages you can add or get inspired by if you're not sure what exactly to say.
#3 Organize big group calls
Get the whole uni crew together for an evening. Big calls can be a little chaotic, so have everyone prepare a round for a pub quiz in advance. Or play an online game!
#4 But don't forget the one-on-one chats!
Quality one-on-one bonding time with uni friends is important. Staying in touch means keeping up with people on a more personal and regular level. If you're bad at remembering to reach out, try setting up a reminder. A little call goes a long way!
#5 Invite them to visit
That's right, even a long-distance friendship needs a little in-person time. Make sure you actually invite your friends to come and see you though or they might not realize you want them to!
If you're studying very far away, and financial reasons mean friends can't visit, don't worry! You can still use the rest of these tips to stay in touch. If you do travel home for the holidays, try to squeeze some time in for them, so they know you miss them.
#6 WhatsApp groups
Creating a WhatsApp or Messenger group will really help your friendship group stay close. Being able to share links and photos, check in or just see your favorite people chatting will make you feel closer.
#7 (Really) use social media
And simply being friends with them on Facebook or writing Happy Birthday on their wall doesn't count! If you're deep in the social media world, then join a TikTok challenge and nominate a friend to duet with you.
If you're less tech-savvy, send them memes and post throwbacks tagging them. Knowing you're thinking of them will make them feel a lot closer to you and will help you grow your friendship even more while apart!
#8 Go private
You and your friends can each make a private Instagram account where you post and share your funny, less Instagrammable moments. Alternatively, add your friend circle to your 'Close friends' list on Instagram and post fun stories that only they can see.
Tip: If some really good photos come of it, you could even send them as photo prints using the MyPostcard app as a funny surprise.
#9 Introduce them to your new friends
Help your university mates feel involved in your fancy foreign life by introducing them to your new friends. Maybe they can even learn a bit of the language from each other!
Tip: Another way of doing this, is introducing them to the culture of your host country. If you can, post them a goodie box of local products to try! Trust us, it'll persuade them to come visit too!
#10 Organize a reunion
Be it a group vacation, a bottomless brunch or a spa date, organize a fun and out of the ordinary event for your reunion after your year abroad. That way, you have something to look forward to and to plan together. Plus, it's a great way to get together again before university starts again!
Final thoughts
It's important to look after your own mental health too. If you find you are putting an enormous and draining mental effort into some friendships and are receiving little back, it might be time to reconsider the relationship. Prioritize your time and energy for the friends that reach out back to you, check up on you and are there for you.
And make sure you're out there making new friends too!
About MyPostcard
MyPostcard is your number #1 app for sending postcards anywhere in the world, with over 50,000 personalizable designs to choose from. Check out the MyPostcard blog for more ideas on how to treasure your travel memories, get creative and stay connected with loved ones for all occasions or on your travels.